My cousin had a day-after-a-holiday party last night. She put together a fantastic spread of delicious food: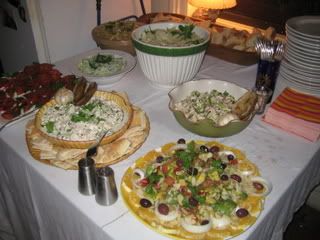 I offered to bring dessert (obviously). I made a chocolate ganache and caramel-hazelnut tart and a berry tart. Both of these were on my list of dishes to try so I got to knock off two in one shot. I didn't love the chocolate tart because the chocolate was
really
bitter, although it was good if you got some of the caramel-hazelnut filling on your fork at the same time. The berry tart turned out very well and was really easy to make.